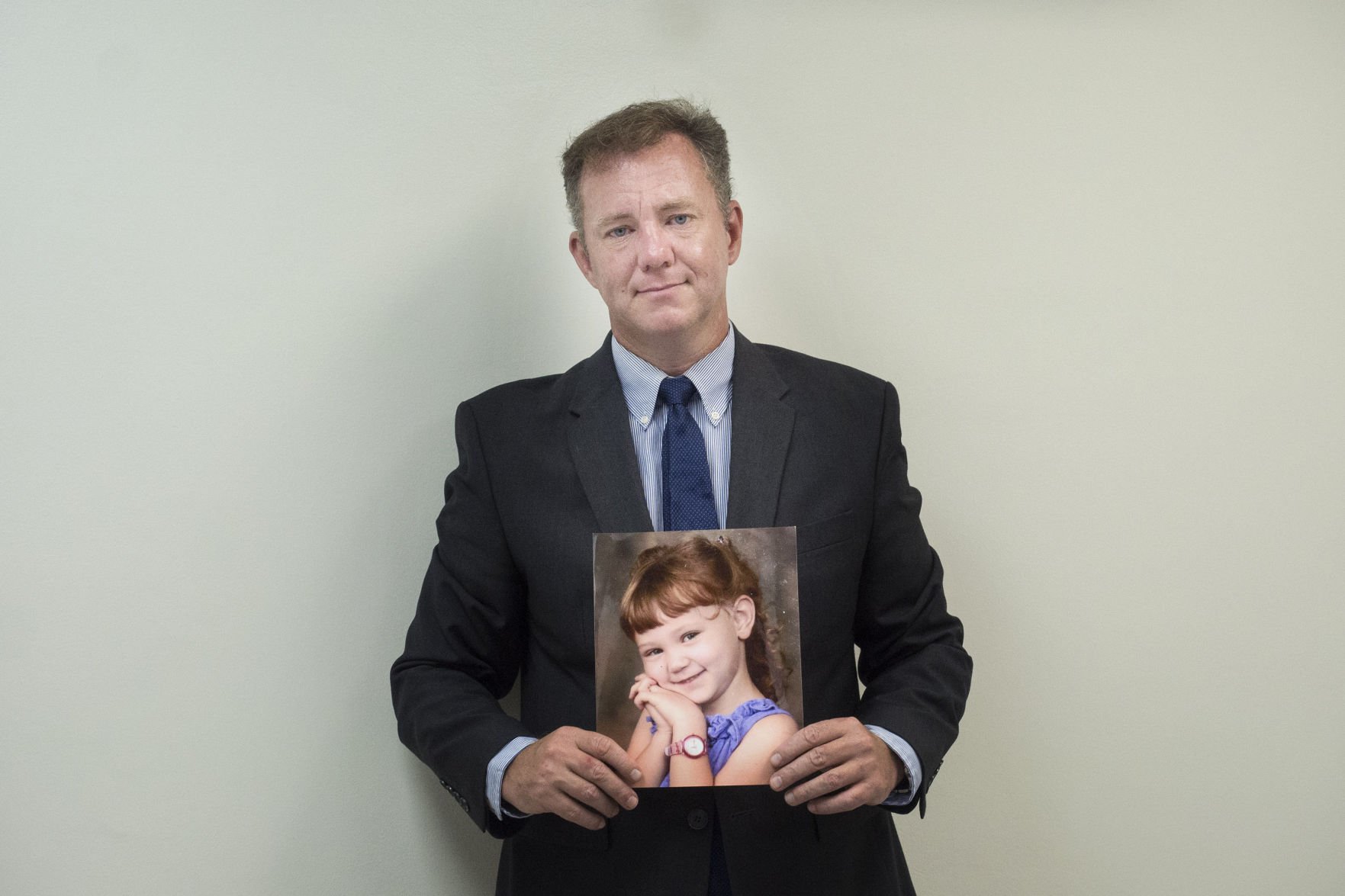 Somewhere in Guam, there's a father who has been desperately trying to get reunited with his little girl, Isabelle.
That Dad, Jonathon Dandridge, an Air Force veteran from Tennessee, was drawn to the island from thousands of miles away, to the call of a specialized, well-paying civilian job with a military contractor.
While some parents have chosen to walk away from their young children, his is a story of his relentless pursuit to find his daughter.
Isabelle, a blue-eyed, brown-haired girl who loved the goats on her dad's farm, was 7 years old when she vanished.
And Dad has missed her past two birthdays, including one that just passed – last September.
"I just want to say I love her," Dandridge said. He turned his face momentarily away in a recent interview, attempting not to show he teared up. Again.
When he's not at work, the web and his phone are his companions – for checking for any more clues on Isabelle.
This is a story that could occur in broken homes – of parents who loved each other, had children, but then the relationship sours. And the bitter split makes one parent flee with an innocent young child – across an international border.
As they disappear, in foreign territory, it leaves the other parent with the difficult task of conducting a search, often without extensive resources, and without the help of the strong arm of the federal government.
There are hundreds to more than 1,000 parental abduction cases in the United States each year, and Dandridge hopes his case will someday find closure, with the federal authorities' help.
There are complexities with Dandridge's efforts to find his daughter, but he said he's not given up, never will.
Isabelle is believed to be in Canada where her mother's from, Dandridge said.
The mother and daughter disappeared when Dandridge was on Guam, working for a military contractor. His daughter went missing in Tennessee, where she was with her mom, in a home on an 11-acre farm that Jonathon Dandridge had been making mortgage payments on – or so he thought.
An empty home
In that farm, Dandridge said wistfully, he and Isabelle had good times with the farm's animals.
"Isabelle loved goats," Dandridge said. A photo of him and Isabelle at the farm he used to own is one of the keepsakes he holds onto.
Dandridge came to Guam as a civilian explosives and ordnance disposal expert for a private contractor that provides services to the military.
This dad had planned to take his first Guam job only temporarily, so he could scrape up enough money for the remaining few semesters left for him to complete medical school.
The pay was good on Guam with the kind of specialized skills he had. Over several months of working here, he showed bank statements and other records showing he had sent home almost $28,000 to his then-wife, for the monthly payment on his mortgage on his home and 11-acre farm, household bills and Isabelle's education at a private, Christian school.
Eventually, he found out the mortgage wasn't paid, and that his wife found someone new, he said.
When he came home to Tennessee to further check what was going on, he found his house literally emptied. His family heirloom coin collection was gone, the furniture was gone and even documents about his family and of his past career and professional certificate were no longer there. The only thing left was a tattered American flag, on the floor, that Dandridge said his father has had since serving in Vietnam, he said.
The house ended up repossessed by the bank, he said.
He said he's accepted the reality of her leaving, but he couldn't give up on Isabelle.
Dandridge filed for divorce on Guam and a Superior Court judge granted the divorce and gave him primary custody of Isabelle, the divorce judgment shows.
But his victory on parental custody is for now, on paper. His little girl is still somewhere in Canada, Dandridge believes. He tried to call and write to a community Christian school in Drake, Ontario, where he thinks she might be attending school, but he was barred from further communicating with the school, he said.
He's been tempted to cross the border himself and try to take Isabelle back, but received advice he could get arrested in doing so, if he doesn't go through the proper, official channels.
FBI Guam has jurisdiction
By this time, more than two years after the disappearance of Isabelle, his hope is for the U.S. Attorney's Office on Guam to file a criminal parental abduction case so that his ex-wife could be brought back to the United States, and he could have Isabelle back.
Dandridge said he has exhausted his resources, but not his energy to somehow keep the disappearance of Isabel online alive.
He's spent tens of thousands of dollars trying to find Isabelle, he said, including putting her photo, the circumstances of her disappearance and pleas for the public to help give him information that will lead to Isabelle. Her disappearance was covered by local news media in Tennessee, but public interest in the case in Tennessee has gone cold. The National Center for Missing Children has listed Isabelle as a missing child.
His story, the photos of Isabelle, his email and Guam cell phone number are all over Internet for the world to be able to reach him at any notice if they've come across information on the specific whereabouts of his little girl.
Dandridge's predicament has received the attention of the FBI and the Guam Delegate Madeleine Bordallo's office.
Dandridge said Bordallo's staff have been very helpful in following up with the federal government, and the FBI has been trying to help him.
The FBI in Memphis, Tennessee, had written to Bordallo's office, letting her know in an Aug. 2, 2017 letter, that the FBI office on Guam has met with Dandridge and provided him with information on assistance for victims of crimes.
"Mr. Dandridge has been advised the investigation would remain within the Guam Resident Agency and that the matter would not be pursued in the Memphis field office," of the FBI, wrote a Kevin Lyons, a deputy assistant director for criminal investigation division.
Dandridge has also written to the U.S. Embassy in Canada to seek help, but he was told, in a letter, he would need to hire a Canadian attorney. The attorney would cost Dandridge an initial $25,000 just to get started getting represented in Canada. And it's the kind of money Dandridge said he doesn't have, after having exhausted his resources trying to find Isabelle for more than two years now.
Continuous efforts
The next step he said he hopes would happen, is for the U.S. Attorney's Office on Guam to file a criminal case that will then – and this is another hope of this – lead to an order that would authorize federal agents to bring Isabelle back to him, here in the United States.
Dandridge had requested expedited resolution, and asked for the FBI's assistance, in what the FBI in Memphis described as the parental abduction of his daughter by his ex-wife.
Dandridge is asking federal authorities on Guam to take jurisdiction because his court order giving him parental custody was issued on Guam.
The Guam Daily Post has reached out to the U.S. Attorney's Office on Guam. "Our response is, 'No comment,'" the office emailed.
Dandridge has posted numerous messages and information on websites for missing children hoping to reach Isabelle, or someone who can help lead him to her.
In all of his efforts, there are times when Dandridge said he felt overwhelmed, but never has it crossed his mind, he said, to give up.
His strong Christian faith keeps him going, and continuing on, even in his toughest moments about missing Isabelle.
"I love and miss you so much. I will never stop looking for you!" he said.
If you have any questions or concerns regarding parental abduction to or from Guam feel free to contact us 24 / 7.  We are always available at contact@abpworld.com or by calling our offices – +1 (805) CHILD-11 (+18052445311)